Recipes
Household Searchlight Recipe Book
by Michael S. White • 2021-09-05
Cover of the Household Searchlight Recipe Book
As often happens as we age, it becomes increasingly difficult for us to fully take care of ourselves as we did when we were younger. If our spouse has passed away, it can make it even more challenging. Having other family members around to help is beneficial but there usually comes a time when our needs are beyond their level of ability. Some years ago, my grandmother was in this situation.
After living in the same house for over 50 years where her and husband raised their only child, it was time for her to move out. The aforementioned situation had occurred where my grandfather had previously passed away and family members were helping her to live independently as long as she could.
When the time came, some family members went to visit her and help identify what would be passed along and what would be let go. In a home for over 50 years, there is an accumulation of many keepsakes and memories. Some forgotten, many remembered. Some items I will go into another time. This time, however, we are talking about a recipe book.
Tucked Away Out of Sight
Above the refrigerator, there was a small cabinet. The cabinets in the kitchen were a dark wood; inside and out. The cabinet had a small ledge that would prevent items from being able to roll out. It was just enough of a ledge to fit a dark covered book. With the darkness of the cabinets, the book was near impossible to see unless you were tall or standing on a step stool.
Other family members had already gone through the kitchen and the cupboards were mostly empty. The cabinet above the refrigerator appeared to be empty until I put my hand inside. Laying down was this black book hiding in the darkness.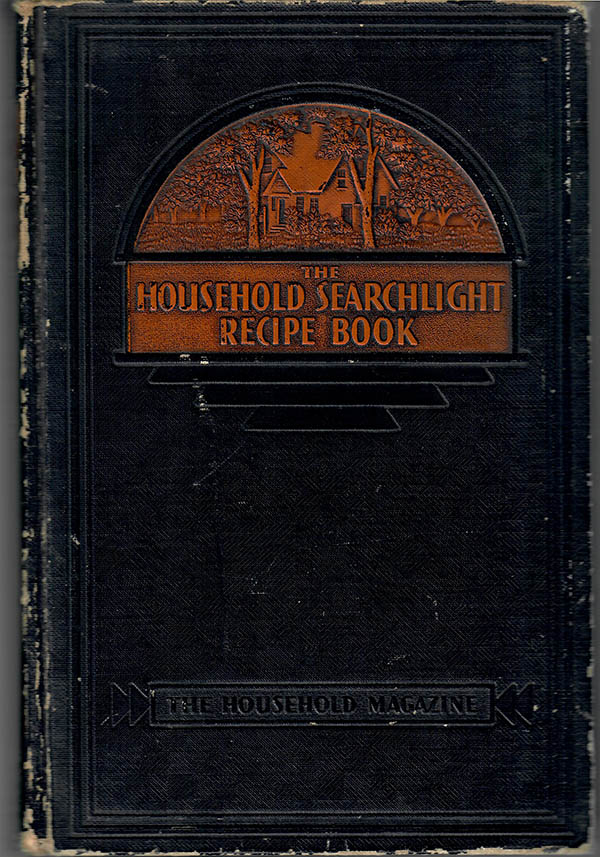 Being a fan of older books, I added it to my boxes of items I was going to take home. I am glad I did.
The Title Page of The Household Searchlight Recipe Book indicates that it was published in 1936. The back of the Title Page indicates that it was the "Eighth Printing".
'Twas a Gift
Inside the front and back covers are inscriptions similar to this. Given that this is to 'Mr and Mrs Floyd E Stevens', it was likely presented to them after 1946; the year they got married.

I do not have any back story on this recipe book. I do not know if it was a book that was previously used by 'Mr and Mrs Herman Sott' or if this was a book that Mrs. Sott had her own copy that she used regularly and purchased a new one for the Stevens'.
Treasures Herein
The recipes that were published in this volume are treasures in and of themselves. The first printing of this book was in 1931. It does not give indication that there were variations between the multiple printings. It is likely that the content of the 1931 edition are the same as the 1936 edition for a variety of reasons - namely the Great Depression.
Future blog posts will have excerpts from this recipe book. It will be interesting to explore how ingredients, recipes, and methods have changed over the last 90 years. Can't wait to share with you some of the coffee recipes that are in there.
Beyond the published recipes are more personal treasures. Scattered in different places are pieces of paper with recipes contained therein. Recipes such as:
White Batter Bread
After School Cookies
Bread and Butter Pickles
Harvesting, Brining, Roasting and Storing Sunflower Seeds
I would imagine that these are different recipes that my grandmother came across and rather enjoyed.
Beyond those inserts, there are 15 blank pages published as part of the book simply titled 'ADDITIONAL RECIPES'. Handwritten recipes that have been added to the book - assumably by my grandmother - to all but one of the blank pages.
Over my years, there are a few recipes that I have come across that I really enjoy. To date, they have been scattered in a folder or scanned to be saved in the computer. I should print out those recipes and add them to the book.
On the blank page, I will enter a special recipe that has been near to my daughter's heart since she was a young age. She calls them my 'world famous burritos'. The 'world' in this case is our own little world. Nonetheless, they are something that has meaning to her that will be able to become memorialized when this recipe book gets passed along to her.
--Michael.