Storing Your Photos in the Cloud
07 Jun 2020 3:21 PM by Michael S. White
I am somewhat compulsive about making sure that the master versions of my photos for NWImages are backed up in multiple locations. One of the tenets about doing backups is to have an off-site location to store your backups. While I do have a whole separate process that I use for backing up my systems to an off-site location, I use cloud storage as an additional backup.
However, one key difference between the separate backup processes I have and storing my master photos in the cloud is that I have some requirements that I like to maintain.
File Size
I do not want to be limited by the cloud provider for file size. Some of the photo files that I have are in excess of 100MB. I do not want to reduce the file size or hinder the image quality so they are full-sized files.
File Type
If I am going to be storing the masters in the cloud I want to use a file type that will allow for the highest quality of the images. Highest quality is somewhat subjective. To me, that means not having to reduce the resolution, image size, file size, or use a compression algorithm that will lose bits of data. To that end, I want to store any of the following file types:
Digital Negative (DNG)
Native Photoshop Document (PSD)
RAW/CR2 Files
Available Storage
Ultimately, there needs not be any limitation on storage space. Period. Over time, file sizes are going to be getting bigger as higher resolutions are photographed. I'm thinking of the long arc on this one; not just current storage capability.
Manual Upload
This one might make you scratch your head. I get it. However, I do not want to have to rely on some algorithm to automatically synchronize some local folder. I've had enough computer changes over time where something was not quite the same as previous and it broke the synchronization. Yes, some are getting better but this is something that I'm steadfast on. For uploading my masters to the cloud, I will do it manually. Once the masters are in the cloud, it should not matter what I do with the local copies of them.
Online Options
There are many different options online for storage of your photos in the cloud. Many meet some of the criteria I mentioned above. Usually, there is at least one piece that is missing though. Most of the ones that I have seen will allow unlimited photos but they must be of the JPEG/GIF/PNG file format or must be under some paltry file size limitation.
Pricing
While I did not mention pricing as being one of the criteria noted above, it is something that does come into play. I already pay for the automatic off-site backups of my systems that allows me to also back up my Drobo drives. So at least two sets of my masters are included in those backups. Given that, I was looking for a cloud option where it was either free or included in something that I already pay for. Most of the free ones have the limitations noted above. One service I already pay for has this as a part of the service offerings; Amazon Prime.
Amazon Photos is a part of your Amazon Prime subscription. With Amazon Photos, as a part of your Amazon Prime subscription, you get:
No limitations on photo file size – at least none that I have ran across
A broad array of allowable file types for your photos
Unlimited storage
Manual backups
The Amazon website identifies the following, non-definitive list, of photo file types as allowed:
Photos: JPEG, BMP, PNG, GIF, most TIFF, HEIF, HEVC, HEIC, and some RAW format files.
RAW: NEF, CR2, ARW, CRW, ORF, DNG
While not specifically noted, practice has indicated that Native Photoshop Document (PSD) files are allowed.
The desktop app allows for manually uploading. The desktop app can automatically synchronize folders. However, this can be turned off and a manual one-time backup can be done.
How To
Say you have some photos to back up and already have an Amazon Prime subscription with the app installed and are logged in. Here is the process I used:
Put all the photos to back up into a folder.

Select all the photos and drag them to the Amazon Photos app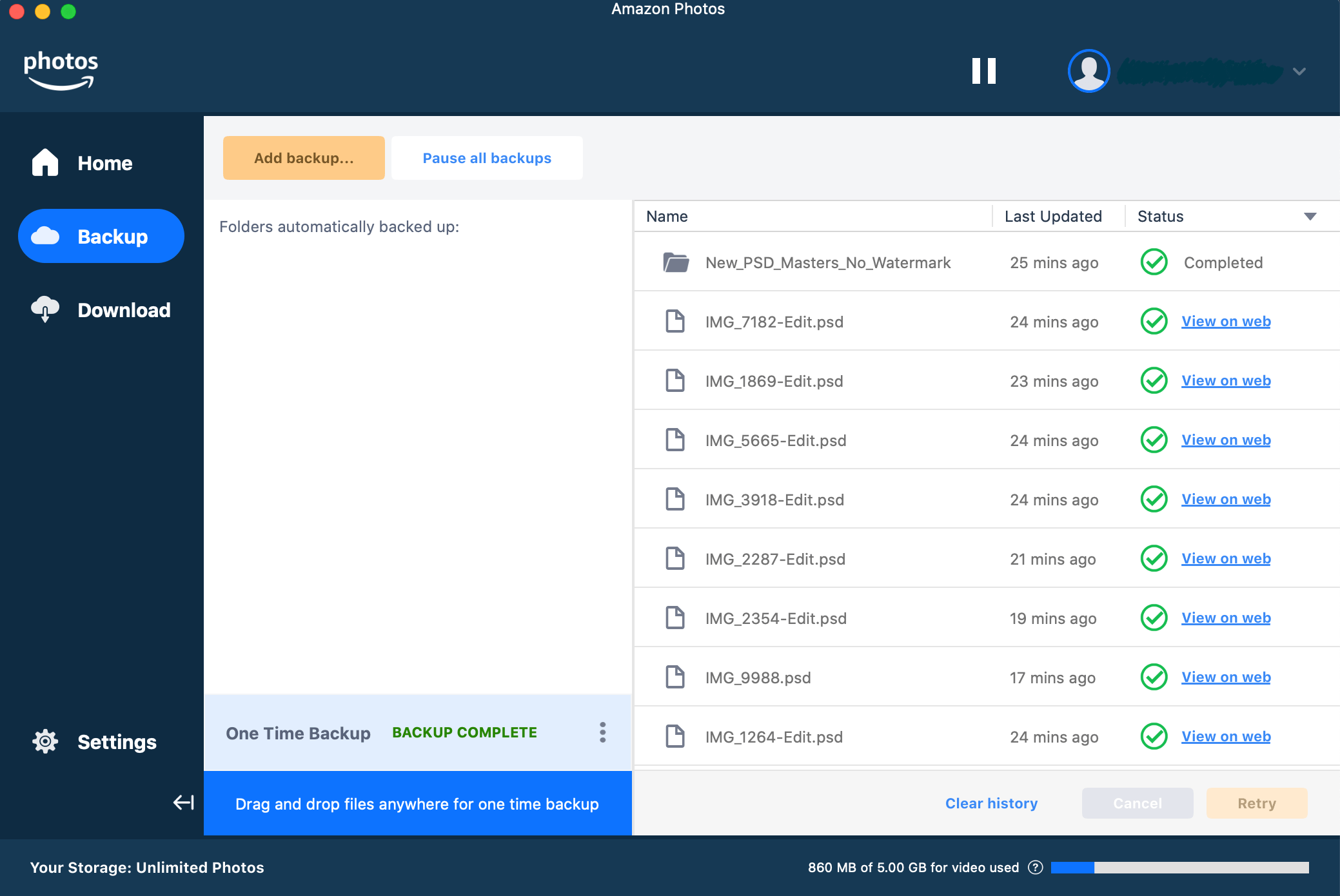 Once the files have finished uploading, I put them into an album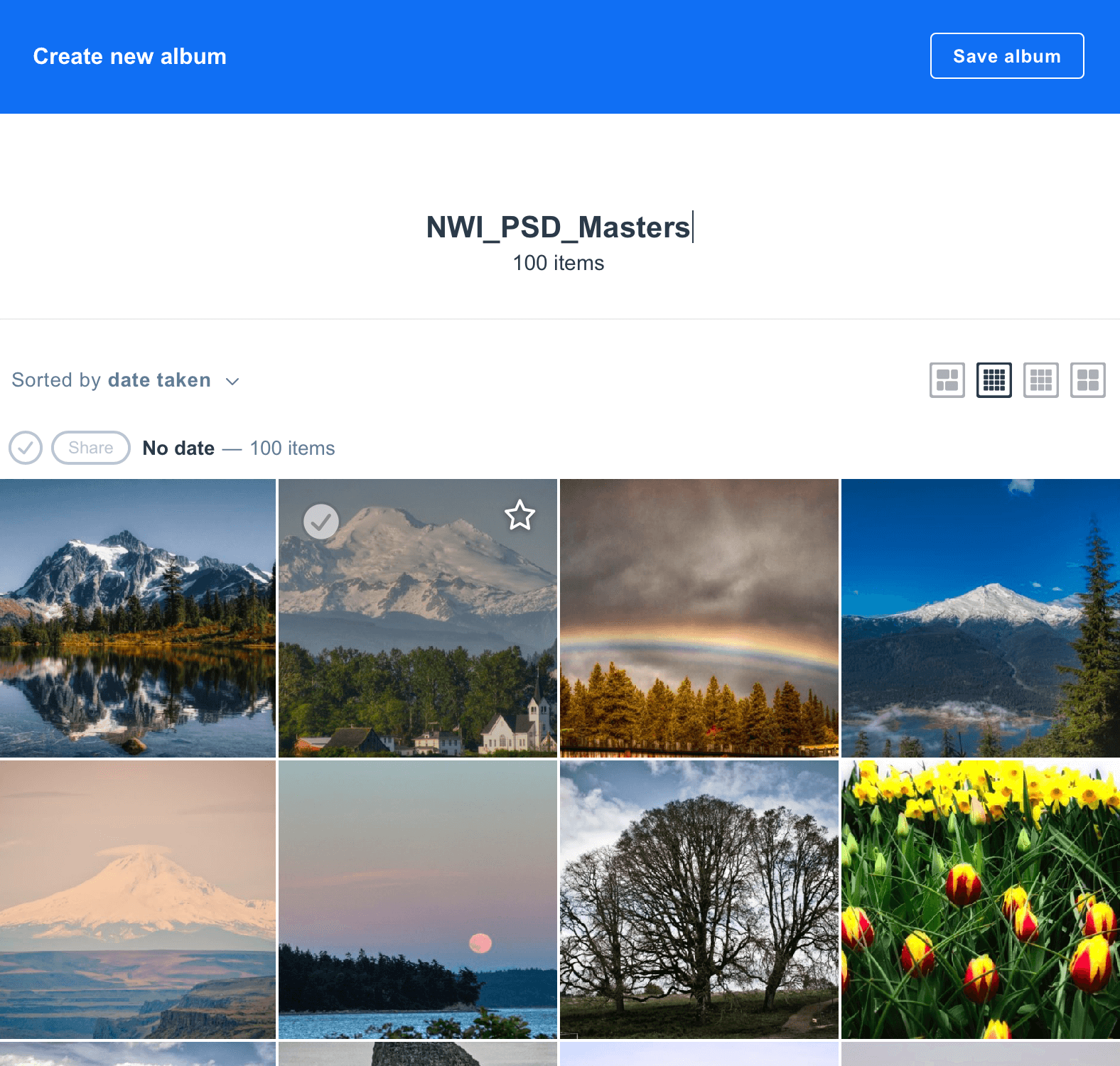 In Summary
Amazon Photos provides an option for backing up your photos to the cloud without having to be concerned with file sizes or, generally speaking, file types for most photo file types. The ability to manually upload the files is an added plus – for me at least – and it does not incur an additional cost beyond something already paying for.
The article above does contain affiliate links. If you purchase an item or service through one of them, I will receive a commission. I only endorse products and services that I have personally used. Thank you for your support!